This year I'm going to accidentally achieve 8/8 most popular New Years Resolutions, and I only attempted one.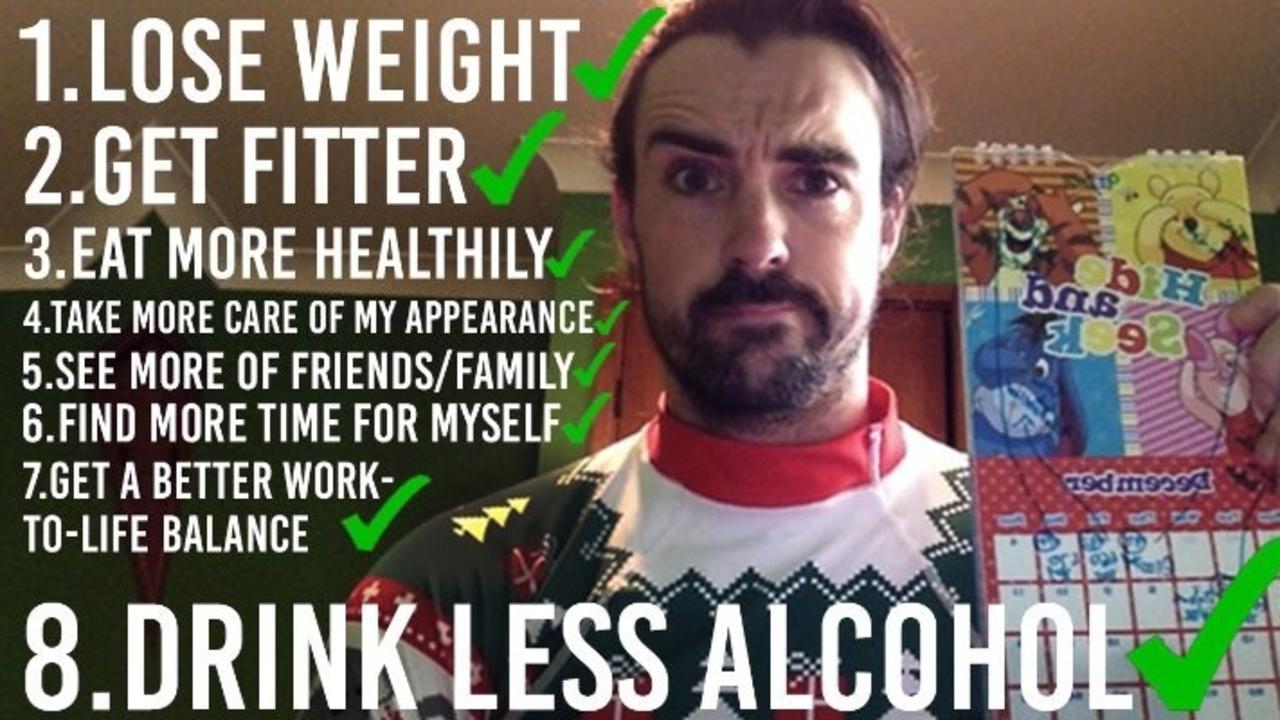 On January 3rd of this year I decided to change my life forever.
It was the third day in a row that was I lying on my couch in North London drinking as the familiar grey sky of mid-afternoon turned to black. I was watching irrelevant sports highlights that I'd already seen.
Picture Homer balancing a Duff , except my poison of choice was a £1 can of Estrella; got to keep it classy.
Mid-way through my third tin and three days straight of nil achievements, nil motivation and not feeling like getting up – I cracked!
I thought, I can do Dry July – But that was too far away and also I didn't like the idea of not being able to have a beer when I wanted for a whole month. What if I chose to celebrate a friend's engagement with a cheeky glass of red? And what happens when there's the most epic concert of all time and your mate gets tickets with a days notice? (this has happened several times btw – my mate's are pretty cool).
Sure all of those things you can do without alcohol, but I love to drink with friends and my rubber arm means I'd been drinking more often than not.
The last few months I'd been listening to some of my influencers on podcasts and in particular reading up on Stoicism. Mainly the beauty that resides in moderation and the discovery of greater self-control. I'd begun to think of life as a big experiment and this was going to be the start of really testing myself.
So I needed a challenge, but things had to be concrete.
I'm a highly competitive person so even though I was just challenging myself I had to announce this to the world. And as the old saying goes "It never happened unless you tell your mates".
So I wrote a blog post outlining my resolution for 2016.
The 101 Beer Tokens Challenge
Here are the rules in a nutshell:
The period runs from 1st January — 31st December (365 days)
I have 101 'beer tokens'- Just under two tokens per week
One sip of anything alcoholic uses a token.
A whole night out with many drinks still only uses a token
I must note every time I use a token on my 2016 Winnie the Pooh calendar accompanied by cash spent and yay or nay. I.e. Was it worth it or not?
If I fail I have to give a considerable sum of cash to my favourite charity
I posted it on Medium and shared on Facebook. I didn't get a massive response - about 500 reads and a few friends saying they'd take up the challenge with me, but that was it!
I'd declared my allegiance to the Beer Token God and was going to share my findings with my friends in a monthly blog post. I also came to realise the importance of the token days off and the things you can achieve instead of drinking or being hung over.
Since then the results speak for themselves:
With the support I received and my clear mental shift, I decided to start a website and have been asking for people to sign up to join me this year at www.101tokens.com.
I'm aiming for an inaugural intake of 101 and have half the sign ups already. This includes singles, couples and even half a football team. And if 101 sounds like a lot, people can set their own limits.
So now I am looking to you guys in my professional network to join me or share with connections (or groups) you think could use it.
And apologies for taking so long to get to the punch-line but I had to tell the story first:
Here are the top 8 NYR's in the UK. Might I add 63% of people didn't go through with them, with 43% of those not even lasting a month. Full Article Here
Number 8: Drink Less Alcohol
I implemented the token game and cut my drinking down by over half! And as a result, I ended up smashing the below too.
Number 1: Lose weight
One of my goals was to follow a 12 week bulking program. Therefore put on weight, but in the form of muscle and reduce fat. So technically I didn't lose weight, but got myself into the best shape of my life. I did this with the support of a few friends and as a result we've became closer. Note: I couldn't take myself seriously when doing these before and afters, so I'm pulling ridiculous faces. Thought it best to emoji them out ;)
Number 2: Get Fitter
A collection of my best mates are keen cyclists. I joined their squad and went on some epic rides around the UK. Meaning I saw countryside I'd never have seen and got way healthier in the process.
3) Eat Healthier
I'm a terrible cook, but due to following my bulk eating guide I definitely know how to make healthier foods that don't taste that bad. I also now understand the benefits of counting calories and input/ output.
4) Take more care of my appearance
I think all of the above looks after this. I still dress like a dork a lot of the time, but I've got more business shirts now ;)
5) See more friends/ family
This definitely occurred through the above activities. Even though I cut out many social drinking sessions I still went to the pub to catch friends. And by not going hard all the time it felt like more of a novelty when I was using a token. I.e. They were extra stoked that I was using one with them.
6) Find more time for myself
I managed to launch my own business www.goodseats.org working with the things I love. And personal time for myself = the gym and creative writing, so I definitely increased both of those too.
7) Get a better work-life-balance
I didn't get this one straight away but after 10 months I managed to quit the job that wasn't allowing it. I'm now working for myself and as a bonus, the money I saved from not drinking fuelled a four week trip around Europe - Viva King Ronaldo.
In 2016 I've learnt a lot about myself and my potential to be a better person. Now I'm not saying that this is easy. But in all honesty it wasn't that hard and if I can do it, so can anybody.
In 2017, It's time to inspire 101 people (maybe more) from across the globe to be the best they can be and continue to push themselves with the support of the crew.
I'm a true believer in minimising consumption and the benefits of following this simple guide certainly have changed my life. So what do you say – fancy a challenge?
www.101tokens.com